4 Reasons People Need a $15 Minimum Wage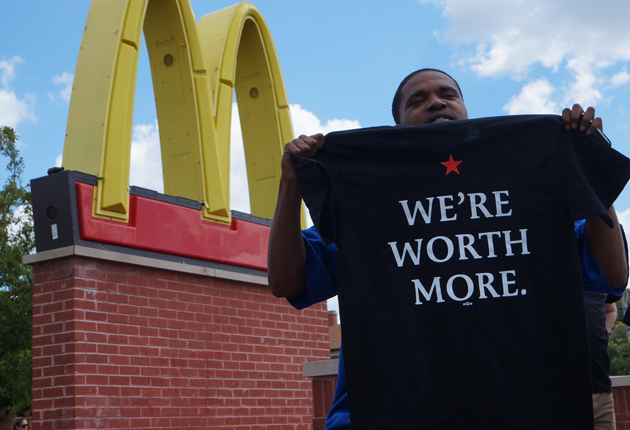 Light Brigading/Flickr
From Jobs with Justice:
By Sarita Gupta
When the Fight For 15 kicked off in 2012, critics described the idea as "ludicrous," "absurd" and "not a reasonable approach." Three years later, multiple cities have $15 minimum wage laws on the books, major corporations like Aetna have raised their starting pay to $15 an hour, and communities and lawmakers across the country are pushing for similar increases. Just yesterday, the New York Fast Food Wage Board recommended raising the minimum wage for fast-food employees to $15. Today, fast-food, childcare, and homecare employees across the country are rallying in support of the Wage Board's decision, calling on policymakers in their cities to follow suit.
Clearly, politicians and activists from Washington, DC to Los Angeles County, California know that $15 an hour is neither ludicrous nor absurd. In fact, a $15 minimum wage is what people need to survive.
1. The cost of living in the United States is prohibitively high if you make less than $15 an hour – no matter where you live.
The Massachusetts Institute of Technology (MIT) Living Wage Calculator estimates the amount an adult needs to earn to make ends meet, adjusting for geography and household composition.
Read the full article from Jobs with Justice.
Like this post? Join our email list